THE PONZI SCHEME / Valérie Delaunay Gallery, Paris
Curator / Marc Molk
Group show
With
Romain Bernini, Amélie Bertrand, Mireille Blanc, Jean-Luc Blanc, Mathieu Boisadan, Fabien Boitard, Katia Bourdarel, Hugo Capron, François Cathala, Tasisiia Cherkasova, Mathieu Cherkit, Claudio Coltorti, Mathilde Denize, Robert Devriendt, Samuel François, Louis Gary, Coline Gaulot, Céline Germès, Cyrielle Gulacsy, Charles Hascoët, Théodora Kanelli, Sopho Kobidze, Marta Krześlak, Élodie Lesourd, Thomas Lévy-Lasne, Amélie Lucas-Gary, Sarah Maison, Philippe Mayaux, Marc Molk, Vincent Olinet, Raphaël-Bachir Osman, Axel Pahlavi, Françoise Pétrovitch, Laurent Proux, Raphaëlle Ricol, Jamie Romanet, Hugo Shüwer-Boss, Elene Shatberashvili, Mathieu Weiler, Marie Weisensel.
Exhibition / 30th June > 23th July 2022
Vernissage / Thursday 30th June / 6pm > 9pm
Valérie Delaunay Gallery
42, rue de Montmorency 75003 Paris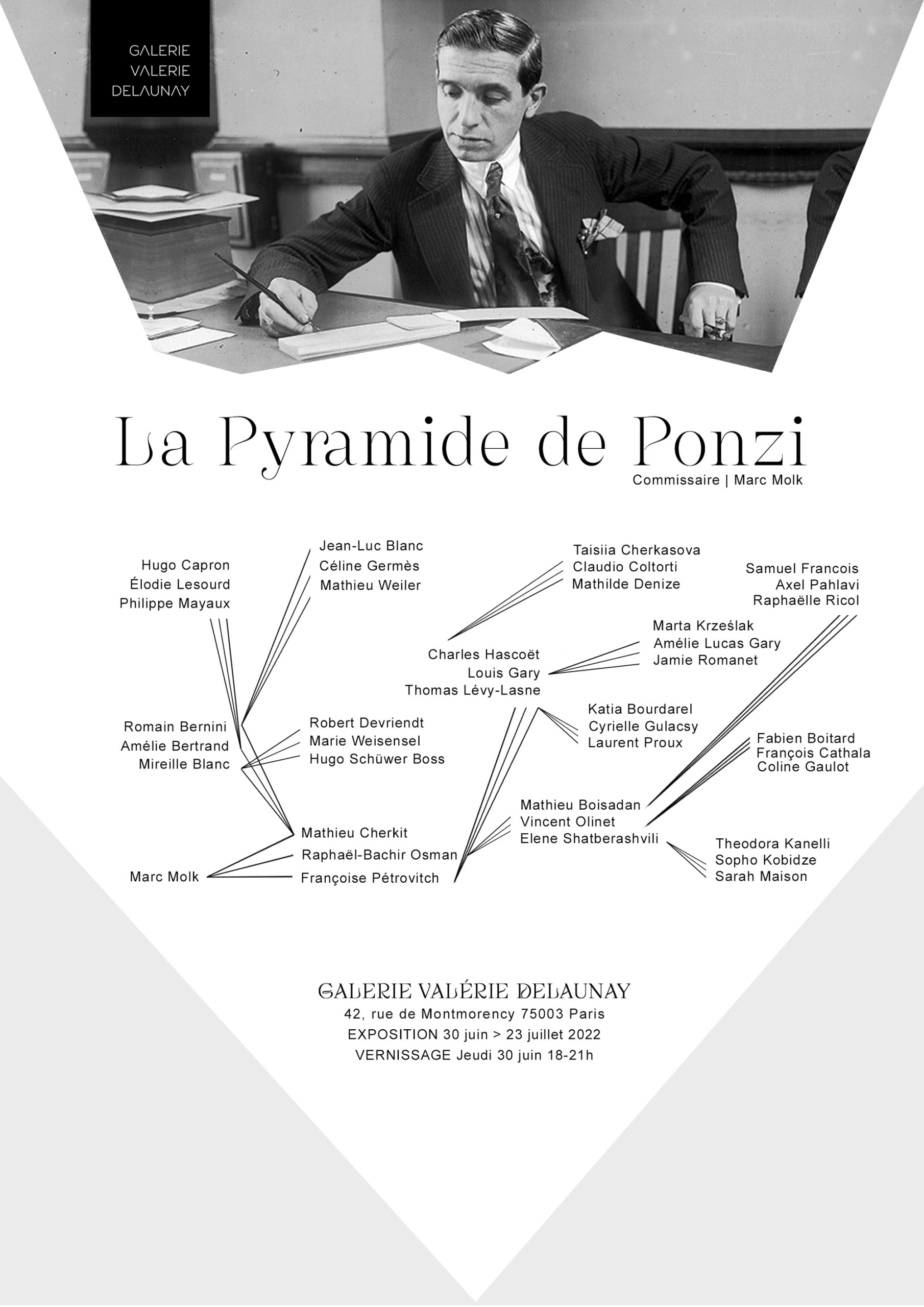 "Charles Ponzi is the inventor of a fraudulent financial scheme – which has become famous – which consists of remunerating the first investors with funds borrowed from new entrants. A kind of headlong rush, if you will.
Obviously, a Ponzi pyramid scheme is doomed to collapse. Also Charles Ponzi left with the money before the disaster.
Admiring his method, I decided to apply it to exhibition curating.
I thus initially selected only three artists.
I invited them – without any constraint or right of scrutiny on my part – to each select three others, to whom they will leave the same freedom as that which I granted them.
This exhibition will therefore bring together 1 > 3 > 9 > 27 = 40 artists.
I reserved the upper hand on the hanging of the whole.
According to my calculations, this programmed success, let's be honest, unique in its principle, will produce a totally atypical exhibition, of very high quality, surprising and organic at the same time.
But it goes without saying that this success will be almost entirely credited to me. My praises will be sung all the way to Basel and complete strangers will call themselves my close friends at dinners in town.
In this, I would have been the worthy heir of Charles Ponzi."
Marc Molk