The disappearance of the real world
Marc Molk
"Qui Vive"collection
Buchet Chastel editions
Date of parution : 07 mars 2013
ISBN : 978-2-283-02611-3
15 € / 160 pages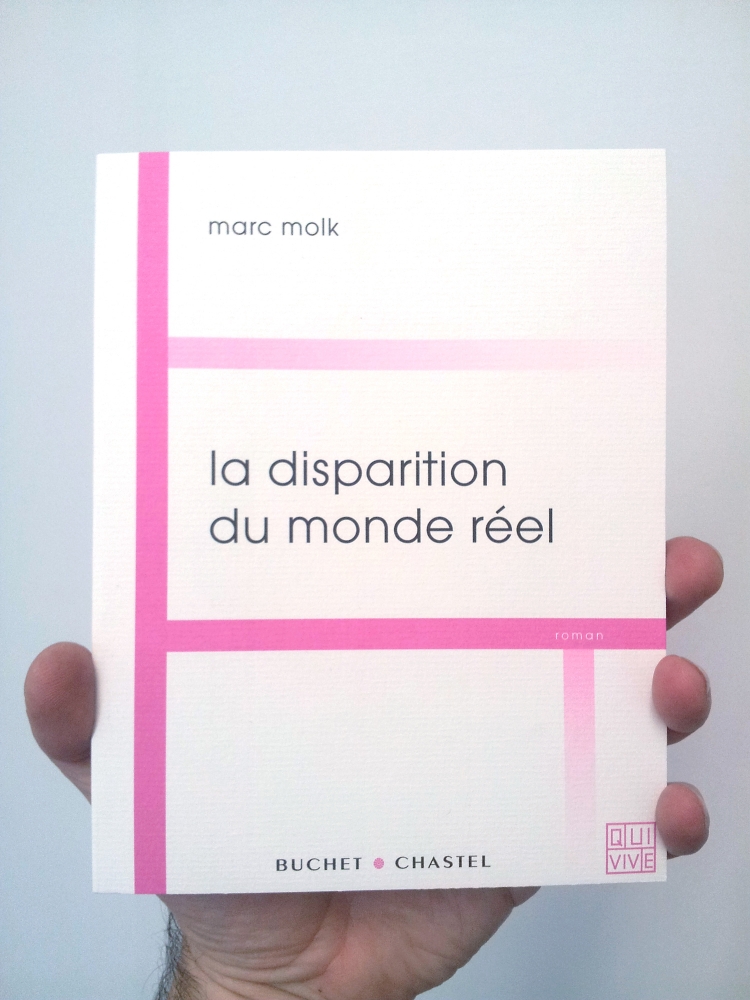 Back cover text
In a sprawling farmhouse in Provence, a group of friends are spending another summer together. The holidays are drawing to a close and the friendship between these forty-somethings is pushing its luck. In spite of the jokes and inebriation, disillusion sets in. How can we avoid the sadness of the things we no longer believe in? Does bitterness make orphans of us all? The summer pleasantries are undershot with nightmares and bad trips. This is a story of when fears and fantasies get the upper hand and make the obvious obscure, destabilising one's very sense of what reality is.
"Later on in the day, when she's gone, you'll play Erik Satie's first Gnossienne in time with your no-longer beating heart. You'll tell yourself that things wouldn't have screwed up like that, had it not been for that greasy, sticky romanticism deep inside you. That's what needs to be eradicated from this world: romanticism."
Publisher pitch
With deft impressionistic touches, Marc Molk sketches out an atmosphere of summer repose and waning friendship, of friendship slowly breaking apart and giving way to disillusion, simmering resentment, and betrayals.
Recently divorced and far from his children, the narrator tries to convince himself that his lifelong friends and the joys of collective living will help him through this difficult time. But beneath the jokes, inebriation and summer pleasures, the veil of appearances slowly tears apart. The lingering traces of a turmoil that once split the group re-emerge, and the world slowly disintegrates through the narrator's consciousness.
What is "real life" ? What is sex without love? The realism of this apparently ordinary holiday cannot conceal the fleeting spectre of a world buried beneath a reassuring exterior.
07th March 2013 : Parution
19th March 2013 : Launching, 

Librairie des gâtines, 9, rue des gâtines, 75020 Paris

24th March 2013 : Paris Book Fair, stand Libella – Buchet-Chastel (www.salondulivreparis.com)
14th April 2013 : Extracts read by the author during the « SALO » exhibition, 

Les salaisons, 25 avenue du Président Wilson, 93230Romainville (

www.salaisons.org)
04th & 05th May 2013 : Châteauroux Book Fair – L'envolée des livres
31th May > 02nd June 2013 : Atlantide – Festival des littératures de Nantes, 

La Cité & Le Lieu unique, Nantes (

www.lelieuunique.com/site/index.php/2013/05/31/atlantide)
25th June 2013 : Les mardis littéraires de Jean-Lou Guérin, 

Café de la Mairie, place Saint-Sulpice, 75006 Paris (

www.lesmardisdejeanlou.blogspirit.com)
06th > 08th September 2013 : Morges Book Fair, Salon du Livre sur les quais, 

Morges, Suisse (

http://lelivresurlesquais.ch)
07th September 2013 : Round table, Morges Book Fair, Salon du Livre sur les quais

, « Couples avec histoires » with Christophe Fauré, Marc Molk, Mona Thomas, Animé par Katarzyna Gornik

 (

http://lelivresurlesquais.ch)