Collective book
CNES editions
Date of parution : april 2015
EAN: 9782854400298
19 € / 260 pages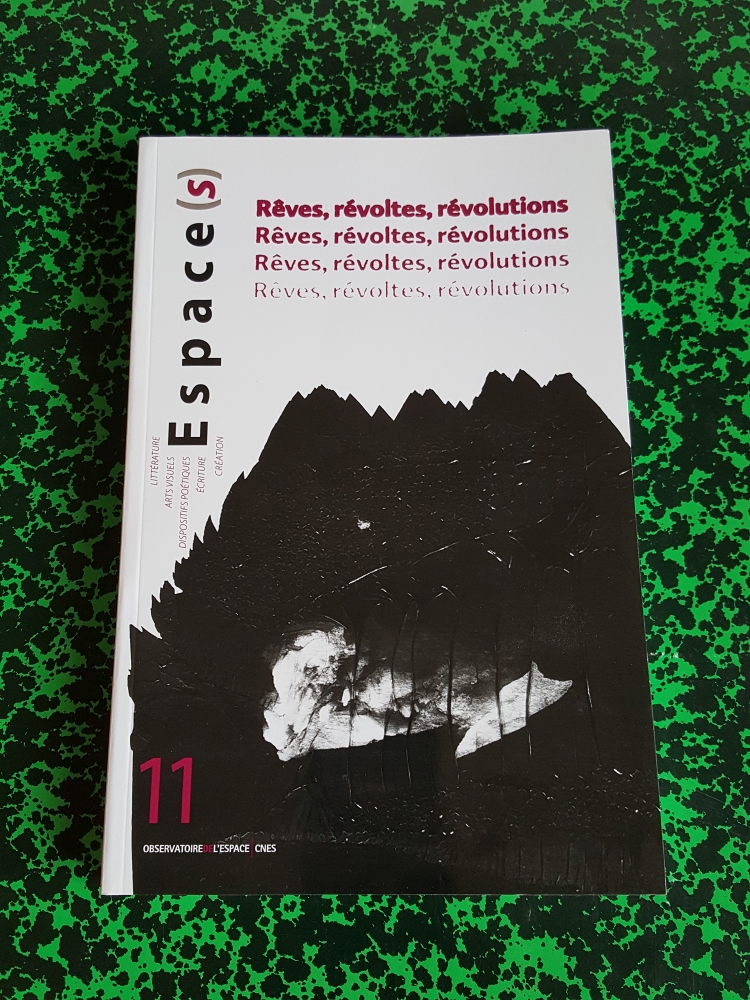 Back Cover Text
Forty or so authors grapple with the theme of space.
The projects pursued by residents at the Observatoire de l'Espace (CNES Space Observatory) are often inspired by youthful dreams. Suddenly confronted with the reality of space adventure, the artists and authors develop original forms that give rise to new narratives of space.
The eleven texts from the Correspondance section are the fruit of an epistolary exchange between the authors of the journal. They were invited to write a letter in response to a postcard they had been sent bearing a photo evoking a space adventure. The reader can thus compare the text with the photo that inspired it.
Résidency
Olivier Bleys · Space Opera
Marie Quéau · Manuel
Éric Pistouley · Les quarante voleurs
Claire Rengade · Tout ce qui monte
Tomás Saraceno · Cloud Cities
Correspondance
Bernard Chambaz
Jean-Claude Pinson
Karin Serres
Éric Suchère
Marc Molk
Sylvain Renard
Emmanuelle Pagano
Nicole Caligaris
Jakuta Alikavazovic
Vincent Gelot
Sabine Macher
Vocabulary
Matériau
Christine Montalbetti · En roulant dans le Sunshine State
Véronique Pittolo · Journal de l'espace (mon odyssée)
Cécile Coulon · La mouette
Frédéric Danos · Tim Berners-Lee
Arno Bertina · La nouvelle frontière
Emmanuel Adely · tous les jours ça
Philippe Malone · La première, révolution
Pacôme Thiellement · Ederlezi
Benoît Vincent · Un nouvel espoir
Carla Demierre · Lumières du problème
Invitation
Florent Trochel · À propos de « La Montagne »
Entretien avec Bruno Meyssat
Stéphane Olry · J'ai volé une pierre de la Lune
Meditation
Christophe Kihm · Pour une iconologie des études spatiales
Exploration
Coline Pierré · Comme un poisson dans l'espace intersidéral
Boris Crack · Back to the future of Giordano Bruno
Ian Monk · … vers de l'infini
Sabine Normand · Aller simple
Élodie Boivin · Ro{z}etta, mon amour
François-Xavier Denis · La Lune sous cloche
Yannick Torlini · rien(s)
Philippe Mangano · Soviet suprême
The Authors
biobibliographies