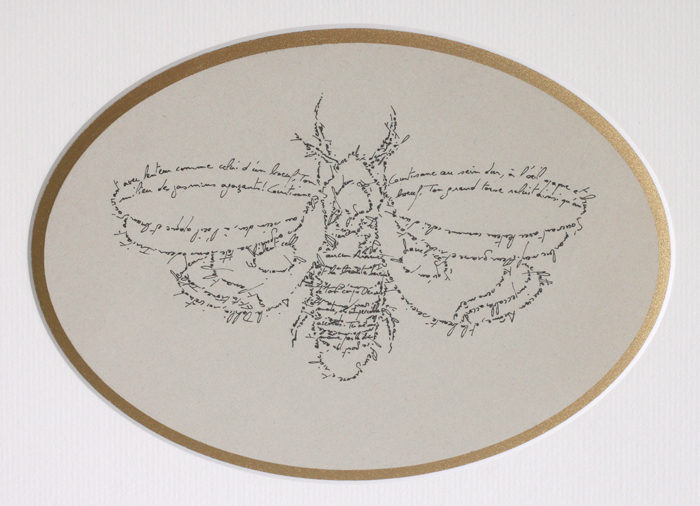 Le dahlia (Verlaine), Marc Molk, 2013, calligramme, indian ink on old paper, 18 x 24 cm
Cabinet Da-End 03
Group show
With
Markus Åkesson – Kunihiro Akinaga – Rica Arai – Nobuyoshi Asai – Fabienne Auzolle – Marcel·la Barceló Laétitia Bourget – Marcos Carrasquer – Miguel Chevalier – Alexander Dorofeev – Kim – Ellen Ehk – Josette Exandier – Christophe de Fabry – Vincent Floderer – Coco Fronsac – Lucy Glendinning – Yoshifumi Hayashi – Pascal Haudressy – Orié Inoué – Ken Kitano – Cédric Laquièze – Philippe Lemaire – Marc Molk – Daïdo Moriyama – Jérémy Page – Jean-Luc Parant – Pascal Pillard – Brann Renaud – Cendrine Rovini – Xiao Fan Ru – Satoshi Saïkusa – Marco Sanges – Jim Skull – Daria Surovtseva – Hideo Takashima – Hideki Tokushigue – Jojo Wang – Galerie SL – Alexandre Bernand – Maison Lemarié
Exhibition from the 21st of May to the 20th of July 2013
Opening the 18th of May from 4pm to 8pm
Da-End Gallery / 17 rue Guénégaud 75006 Paris / www.da-end.com
For its third season, Galerie Da-End has invited over thirty artists to create a contemporary "cabinet de curiosités" with a floral theme. Blossoming in this distinctive place, the flowers seem to probe our ability to rethink mankind and above all, to explore its less appealing side. In this case specifically to « extract beauty from evil ». So Flowers in their thousands then, but these ones do not always evoke the spring.
The exhibition is part of the « Je sème à tout vent. Onze galeries parisiennes en fleurs » (I sow to all winds. Eleven blossomed parisian galleries) itinary proposed by David Rosenberg.
Cabinet Da-End 03
Exposition collective
Avec
Markus Åkesson – Kunihiro Akinaga – Rica Arai – Nobuyoshi Asai – Fabienne Auzolle – Marcel·la Barceló Laétitia Bourget – Marcos Carrasquer – Miguel Chevalier – Alexander Dorofeev – Kim – Ellen Ehk – Josette Exandier – Christophe de Fabry – Vincent Floderer – Coco Fronsac – Lucy Glendinning – Yoshifumi Hayashi – Pascal Haudressy – Orié Inoué – Ken Kitano – Cédric Laquièze – Philippe Lemaire – Marc Molk – Daïdo Moriyama – Jérémy Page – Jean-Luc Parant – Pascal Pillard – Brann Renaud – Cendrine Rovini – Xiao Fan Ru – Satoshi Saïkusa – Marco Sanges – Jim Skull – Daria Surovtseva – Hideo Takashima – Hideki Tokushigue – Jojo Wang – Galerie SL – Alexandre Bernand – Maison Lemarié
Exposition du 21 mai au 20 juillet 2013
Vernissage le samedi18 mai de 16h à 20h
Galerie Da-End / 17 rue Guénégaud 75006 Paris / www.da-end.com
La galerie Da-End invite plus de trente artistes à élaborer sur le thème des fleurs, son troisième cabinet de curiosités contemporain. Écloses dans ce lieu à part, celles-ci semblent sonder notre faculté à repenser l'Homme et surtout à explorer ses zones d'ombre. Il s'agit ici précisément « d'extraire la beauté du mal ». Des fleurs par milliers donc, mais celles-ci n'appellent pas toujours le printemps.
Exposition participant au parcours « Je sème à tout vent… Onze galeries parisiennes en fleur » proposé par David Rosenberg. Cabinet de curiosités, expositions collectives ou personnelles d'artistes de différents horizons, performances, poésie, ikebana, art d'aujourd'hui et arts premiers… Le parcours « Je sème à tout vent » explore à travers la sensibilité de onze galeries parisiennes la place de la fleur dans l'imaginaire artistique contemporain.